Introduction
Ouji is an attractive word having a Japanese origin used for a 'Prince'. It creates a curiousness about the mysterious world of Japanese fashion.
Ouji fashion is also known as "boyfriend style" or "prince fashion." The style has its roots in Victorian fashion. It seems to have strong bonds with the Aristocrat, EGA (Elegant Gothic Aristocrat). It gives a unique look that has become a trend among the youth in Japan.Rather it would be more accurate to say that it has attracted the attention of the youth all over the world due to its uniqueness and validity.
We will look deeper into the various perspectives and explore the history, meaning, and style of Ouji. It is a fabulous fashion style from Japan. It's a type of Lolita fashion that girls wear to look like they are boys.They call it "boyfriend style" or "prince fashion." It is all about being androgynous, simultaneously looking like a boy and a girl. It's a unique and fun way to express yourself with fashion. As it is crystal clear that the dressing reflects one's inner personality so Ouji Fashion helps you reflect what you truly are.
In this scenario, various themes of Ouji show that what you feel about the world around you and about the world within you.The girls who wear Ouji, often wear suits or dressy shirts and pants, just like a boy wears. But they also add some feminine touches, like lace or ribbons. This way, they can simultaneously look like a boy and a girl. It's exciting how different cultures have different fashion styles. Japan has a whole subculture called "Lolita fashion," which includes styles like Ouji.
So, buckle up and join us on this exciting journey of discovering the mystical world of Ouji!
History of Ouji Fashion
Ouji fashion has a fascinating history that goes back to the early 2000s. It originated in Japan as a Lolita fashion subculture, known for its girly and cute styles. Ouji is different from Lolita fashion as it aims to create a more androgynous look, which means a combination of both masculine and feminine styles.
Ouji became popular when Japanese girls experimented with their boyfriends' clothes. They loved the oversized jackets, shirts, and pants and began wearing them. Soon, this look became more popular, and girls wore it more often. The term "Ouji" comes from the Japanese word for the prince, and the style represents a prince's outfit from the Middle Ages.
The Ouji style has elements of historical fashion from both men and women, making it a unique style. Ouji outfits are often accessorized with hats, ties, and vests, which add a vintage look to the overall outfit. The clothing is also tailored, which adds a bright and polished look.
Today, Ouji is a popular subculture within Lolita fashion, with many followers worldwide. Ouji has also evolved and adapted to incorporate more contemporary elements, such as vibrant colors, graphic tees, and accessories. Despite its evolution, the Ouji style remains distinct and has become popular worldwide among fashion enthusiasts and streetwear culture.
Ouji is a unique and exciting style with a rich history and has become a popular fashion subculture. Its combination of masculine and feminine elements makes it an inclusive and versatile style, which allows people of different genders to experiment with different looks.
Types of Ouji
Ouji does not present a single outlook or a single style of outfit. It has numerous different styles with various combinations of dresses. You may call it a house of styles as it offers various versions within its domain. Each of the styles that Ouji represents has its unique value and theme. It is this traditional value and theme which make Ouji much more diverse and multidimensional.
Moreover, Each Ouji Fashion leads to a different dimension following a different idea. Hence it is not just a dressing or simply a dress code, rather it is a mirror which makes your personality transparent and above board. Basically the types of Ouji are numerous and umpteen in number but here are some of the substyles that you might see and appreciate by trying them:
1. Classic Ouji:
This style is more traditional and has a lot of vintage or historical influences. Classic Ouji fashion typically contains the classic traditions and makes a pompous show of the customs and trends of the ancient Japan. Thus it reflects the true picture of the Japanese history, their ways of living and dressing, their social hierarchy, their stratification, customs, norms and traditions. Classic Ouji shows various themes out of which Royalty and Pirate are the themes known worldwide. You might see ruffled shirts, waistcoats, and even cravats in this style!
Theme of Royalty: The most charming edge of the Classic Ouji is that it presents the theme of Royalty. Basically it shows that you have royal blood in your veins and you are well aware of the ancient Japanese Princes, their styles of dressing and their life. This theme cherishes a unique antiquity and beauty which leaves the on-lookers with a strange sense of pleasure that they can't help praising you. This royal theme is the essence of Classic Ouji.
Theme of Pirates: The second theme which is presented by the Classic Ouji is the theme of Pirates. The personality of pirates is always enchanting and magical. In spite of all of its indebtedness to an occult or sinister disposition, it attracts every young soul with all of its might due to its adventurous nature. The life of a pirate is full of mysteries and surreptitious things. This mysteriousness cultivates a deeper sense of curiosity which forces others to notice you. Thus the theme of Pirates
2. Punk Ouji:
Punk Ouji plays the role of a bridge between the ancient trends of Japanese youth and the modern ways of dressing. With the Punk Ouji you just become a member of the current society having latest ideas in your mind. While dressed in this style, you show your personality through the combination of bright colours. These colours fill your personality with an ambitious outlook. In fact, it presents a more colorful and elegant outlook. If you want to present yourself with a more edgy look, try Punk Ouji. This style uses a lot of dark colors, studs, and spikes. You might see a lot of black and red in this style! Furthermore, the dark colours are dominating in nature, thus they make you dominant among your fellow beings. So Punk Ouji is the best way to be dominant in your society.
3. Casual Ouji:
Casual Ouji truly bridges the gap between a formal Ouji and the informal Ouji fashion. This marvelous fashion provides an opportunity to live in a casual way. Casual Ouji draws you far away from the formalities considered while dressing. It also helps you avoid the harsh realities of life. If you want to dress in Ouji but still be comfortable, Casual Ouji is for you. This style uses a lot of t-shirts and jeans but with Ouji elements like vests and bow ties. These Ouji elements and accessories make your normal casual style Ouji in nature. Just imagine, how flexible the Ouji Fashion is, it allows you to be Ouji while wearing Jeans with T-shirts.
4. Military Ouji:
This style takes inspiration from military uniforms and here you get a golden chance to wear the military uniform with slight changes according to Ouji. It makes you feel like a soldier. This splendid style of wearing not only inspires other physically but also show them what you actually like and fascinate. Indeed, military is another name of adventure and embarking onto something hazardous. The youth of today is inclined towards such prospects. Military Ouji gives you the opportunity to use a lot of epaulets, stripes, and medals. To create a true resemblance with the military, numerous gold or silver buttons are used in Military Ouji.
5. Gothic Ouji:
As the word 'gothic' suggest something mysterious, horrified and gloomy, same is the case with Gothic Ouji. This fashion is the way to go for a dark and mysterious look. In this style the black color plays a pivotal role as it demonstrates something hidden, surreptitious, loneliness and gloomy. This is the reason that in this style you would find the use of black, lace, and velvet in plenty. In order to complete the Gothic picture, a lot of crosses and other religious images are also used vividly in this style. It is also claimed that Gothic ouji shows devilish and mischievous personality which often makes you more attractive, charming and scrumptious among others. In short, Gothic Ouji makes you look mysterious and resultantly, it arises curiousness among others about your personality and they want to know more about you.
Sweet Ouji:
Although every Ouji style is unique and sweet but what we call "Sweet Ouji" is something special you need to focus. It is related to the dress of the young girls who want to look like the younger kids. If kids are dressed in Ouji, it adds to their cuteness and sweetness.  Sweet Ouji may also be referred as Chocolate Ouji. It is worn to show various themes like Sweets, Chocolate, Desserts, Fairy Tale, School Style and Alice in Wonderland. There is a special place for Pumpkin pants with puffy styles in this Ouji fashion. Just imagine a baby girl in a boyish suit with the slight touches of Ouji accessories! How cool it is!
Furthermore, Sweet Ouji can also be worn by boys and girls to look like the opposite genders.
Some Other Substyles of Ouji
Qi Ouji:
It is a substyle which finds its origin in Qi Lolita. This fashion includes the incorporation of Chinese traditional clothing keeping in view the Chinese heritage. Basically it is there to promote the Chinese traditions, trends, customs and norms. As in Classic Ouji, we find the reminiscences of an ancient Japan, in Qi Ouji we does have the glimpses of ancient China.
Wa Ouji:
It is similar to Wa Lolita in nature and disguise. It is a strange blend of Japanese traditions with the acute elements like Kimono. Kimono is basically a 'Like-Fabric Pattern' These patterns are an emblems of specific themes. However, Wa Ouji has a special rank in the realm of Ouji Fashion.
Steampunk Ouji:
It has been deduced from Steampunk genre. It includes all the elements of Steampunk genre. It specifically represents the themes of Victorian era. This Ouji trend tends to express the themes and motives of the Victorian age which are still being appreciated by the youth of Japan especially and the youth of the rest of the world in general. Owing to its antiquity, Steampunk Ouji holds a dignified yet sober position among the other famous fashions belonging to Ouji Fashion.
Circus Ouji:
As it is evident and vivid from its name, Circus Ouji gets inspiration from a clown or a circus. The prevalent colors in Circus Ouji are, no doubt, red and yellow. These colors are a constant source of gay mood and cultivate the feelings of extreme happiness which result into resonant laughter. Despite all such casual and non-serious touches, Circus Ouji lets you stay in the domain of a normal human being. In Circus Ouji, you might like to have a light make up having the touches of a clown. Although Circus Ouji seems to be playful yet it is in the line of original Ouji Fashion.
How to Dress according to Ouji Fashion
Ouji is all about dressing in a way that makes you look like a prince. It's not just for boys, though. Girls can wear them too!
To dress in Ouji, you'll need some key pieces of clothing and accessories.
First, you'll need a dress shirt with a collar. This can be a plain white shirt, or add some frills. You'll also need a vest to wear over your shirt. The vest should be the same color as your shirt and have some buttons on the front.
Next, you'll need some pants. You can wear dress pants, or you can wear shorts if you prefer. If you wear shorts, you'll want to wear high socks to cover your legs. These socks can be plain or have a pattern on them.
Now, let's talk about shoes. You'll want to wear dress shoes with your Ouji outfit. These can be black or brown, and they should be shiny.
To finish off your outfit, you'll need some accessories. A bow tie is a must-have for Ouji. You can also wear a hat, like a top hat or a bowler hat. Some people even wear capes with their Ouji outfits!
Remember, the key to dressing in Ouji is to look like a prince. So, ensure your clothes are clean and pressed, and pay attention to the details. For example, you'll want to ensure your bow tie is tied correctly and your socks are pulled up.
Ouji with significant details
Let's have a deeper look into Ouji and probe into the facts with minute details about how Ouji Lolita can be adopted as a fashion during the current vibrant era of fashion and style where nothing lasts more than a few months and something new jus replaces the previous trends with its innovation and modern versatility. Here are some easy steps to follow which may help you cope with the newly emerging challenges in the realm of fashion, especially in the realm of Ouji Fashion.
Start with a base outfit
Never forget the reality that a base outfit presents the major theme of your dressing. So always be much careful while choosing a base outfit especially when you are going for an Ouji touch. Here it would preferably be suggested that you ought to choose a white or black dress shirt with long sleeves to start your outfit. Then, wear a pair of tailored shorts or cropped pants. You can also wear a vest or blazer. Once you have taken the right decision about your base outfit according the Ouji tradition, it's all good to go further.
Ouji Fashion Accessories
Accessories are what embellish the overall look of a dress and undoubtedly, Ouji is all about looking like a prince so to complete the look, we need some accessories which are regarded as the prerequisites for an Ouji presentation. These components add to the beauty of your personality and enhance the charms you want to create with your style. In order to achieve the goal set by you these Ouji accessories are a must. Without them, your style would be regarded incomplete. That's why you should be very much careful while using the accessories to finalize the Ouji outlook.
Some of the must-have Ouji Accessories
1. Waistcoat:
A waistcoat is a vest that goes over a shirt. It looks super cool and makes you look more like a prince which is the basic motive of an Ouji outfit.  Wearing a waistcoat for Ouji fashion will render you the feeling of a royal gem. It incorporates the same passion as it was being felt by the aristocrats of the ancient times. A light fabric waistcoat can be used in the countries of Asian region but it is not compulsory for the residents of other regions where temperature goes below zero. Its sharpness cultivates an intelligible outlook. You can find waistcoats in many colors and styles, but in Ouji, the most common color is black.
2. Ribbon Tie:
A ribbon tie is like a regular tie, but it's made of a pretty ribbon. The softness of the ribbon creates a delicacy in one's personality and its shine endows you the glow you want to have. Thus the softness and shine of the ribbon tie adds a touch of elegance and dignity to your outfit which is the essence of an Ouji outfit. You can choose different colors and patterns for your ribbon tie to match your Ouji outfit.
3. Lace Choker:
A choker is a necklace that fits tightly around your neck. The Ouji Fashion embraces such petty objects so that they can embellish the dress in a slightly different way. A lace choker is a choker made of lace. It becomes a natural part of your body and gives your outfit a delicate and girly touch. It also enhances the beauty of your neck which has its own significance. However you can wear a choker with any Ouji outfit, making you look like a prince who cares about all the minute details.
4. Bow Hair Clip:
Ouji Fashion does support the use of hair clips. Hair clips are not just for keeping your hair out of your face. They can also be an accessory to make your outfit look even better. A bow hair clip is a hair clip with a cute bow on it. You can clip it onto your hair or your outfit. It adds a touch of cuteness to your look. Undoubtedly, any kind of hair clip can be used with an Ouji dress, but it is Bow Hair Clip which is regarded as the best part of an Ouji outfit.
Accessories are an essential part of Ouji. They help complete the look and make you look like a prince. So, if you want to try Ouji, add some accessories to your outfit!
5. Hat:
Hat is typical with the masculine personality and just imagine how it would look if used by a gorgeous teenage girl. It will really render her a boyish look. It adds to the overall personality and makes you mysterious which is one of the major characteristic of Ouji fashion. Here one may raise a question about the type of Hat which should be used as an accessory in Ouji Fashion. The answer is very simple, "Any king of hat that you feel suitable as well as comfortable to your personality". Hence putting a hat on your head gives you a chance to look like boys do. So just select a hat of any type and put it on your head in order to present an Ouji look.
6. Gloves:
Ouji Fashion also includes the use of gloves. Basically, gloves are used to cover the hands. There are a lot of types of the gloves available in the market. You may choose any kind of gloves to make your hands look more beautiful and charming. Furthermore, as far as the function of the gloves is concerned, they not only keep the skin of your hands safe from the harmful affects of atmosphere but also intrigue the curiousness among the observers. So do use gloves while using Ouji trend.
7. Messenger Bag:
Bing a member of Ouji family does not mean to give up the basic things which are typically associated with a woman. To maintain the self-identity is also one of the motifs of the Ouji Fashion.  A small messenger bag would be awesome for the girls to keep their own identity intact. Actually a hand bag is typically associated with the feminine look. For looking different in an Ouji dress, it helps you to attract the attention of others vigorously.
8. Stockings:
Remember to wear knee-high socks or stockings to cover your legs. They give you a charming look and make your Ouji outfit more suitable to your personality. The glimpses of the sexy skin from beneath the stockings create a wonderful charm and you will also feel comfortable while making an ostentatious show of your Ouji looks.
9. Choose the right shoes:
It is said that the shoes reflect the personality and a person who has adopted to be a part of Ouji family is no exception to it. That's why it is highly recommended that you ought to choose your shoes owing to your comfort zone and taste. While making a selection among shoes on the rack of a shoe store, never compromise on you comfort level. You can wear dress shoes, boots, or loafers. Make sure they match your Ouji outfit!
10. Choose the right colors:
Ouji Lolita fashion usually includes dark colors like black, grey, or navy blue due to their association with different vibrant ideas like mystery, curiousness, strangeness and serenity. So these colours work far better than any other dull or faded shades. Thus they assist you to adopt any type of Ouji. However, you can also wear white or beige for a more casual look.
Embrace the androgynous look
Ouji Lolita fashion is about looking androgynous which means you don't want to be considered as one of the major sex sects. It also show the sense of equality you possess for both the genders. Thus Ouji endows you with a psychological satisfaction along with the physical contentment. Indeed, this indifferent look provide you to wear the clothing which is socially associated with the opposite gender. This also shows how indifferent you are to the gender discrimination in this highly accelerated era. So just embrace the marvelous Ouji with a spirit highly motivated and confident to bring a change around you.
That's it!
Now you know how to dress in Ouji. Give it a try and see how you feel it!
Ouji Lolita – You Need to Know Further
Have you ever heard of Ouji Lolita? It's a type of fashion in Japan that combines the cute style of Lolita with the excellent androgynous style of Ouji. Some of the people consider Ouji and Lolita as one and the same thing. But to their surprise, it is not so.
In Ouji Lolita, girls wear cute dresses, skirts, blazers, vests, and even top hats! It's fun to mix different styles and create a unique look.
If you want to try dressing in Ouji Lolita, you can start by finding a cute dress or skirt with ruffles and lace. Then, add a blazer or vest in a darker color to create that cool androgynous look. Remember to accessorize with a cute hat or bow in your hair!
Some people even add other Ouji elements like suspenders or pocket watches to complete the look. It's all about having fun and expressing yourself through fashion.
Ouji Lolita: Male Counterpart of Lolita Fashion
Just like girls wear Lolita fashion, boys also have their style called Ouji Lolita!
The outfits are inspired by the classic style that royal men used to wear.
So, if you want to look like a prince or a member of the royal family, then this style is perfect for you!
Ouji Lolita outfits include fancy jackets, vests, high-waist pants, and long socks. The boys also wear frilly shirts, bow ties, and berets. All of these clothes make the boys look like princes! No doubt about it, the princes of all the times have their own unique manners of dressing throughout the world. Furthermore, the prince of every state has its own symbols, stars and medals. The same style is adopted in Ouji. The best part is that Ouji Lolita is versatile, so it can be styled in different ways depending on your preference.
Like Lolita fashion, Ouji Lolita has many different sub-styles, such as sweet, gothic, classic, and punk. So, there's a style for every boy who wants to dress like a prince!
Lolita Wardrobe – Get to Know
Are you interested in Ouji or Lolita Fashion and want to learn more? 
A wardrobe and its setting reflect the personality of a person. Wardrobe shows which styles are being adopted by the owner. To cope with the demands of an Ouji style, a unique wardrobe is a prerequisite. In fact it is Ouji which offers a wide range of styles. One important thing to know about these styles is their unique wardrobe. This is where all the beautiful outfits and accessories are kept!
Lolita wardrobe usually consists of a few essential items. One is the petticoat, worn under dresses or skirts to give them a full, poufy shape. Another is the blouse, which is usually frilly and often has puffy sleeves.
There are also dresses, skirts, and shorts, often ornate with lace, ribbons, and bows. And remember the socks and stockings that come in fun patterns and designs!
Accessories are also essential in a Lolita wardrobe. Hats, bows, and headbands are often worn in the hair, and even unique Lolita parasols can be carried on sunny days. Bags and purses are also often very elaborate and can be decorated with cute things like buttons, charms, and badges.
So, there you have it, a quick introduction to the Lolita wardrobe! Remember, the key is to have fun with fashion and express your unique style.
Building a Complete Lolita Wardrobe
Here are different things you need to know:
1. Good Petticoat:
To have a complete Lolita wardrobe, you need a good petticoat!  A petticoat is like a fluffy skirt that goes underneath your dress to make it puff out. This is important because it makes the dress look cuter and more feminine!
When you look for a petticoat, choose one that is fluffy and has a lot of volume. This will give you the perfect Lolita look! You can choose a long or short petticoat, depending on the length of your dress.
You can also choose a petticoat with different colors or patterns, but most Lolita fashion lovers prefer white or black petticoats because they match any dress color.
A good petticoat is essential because it can make a big difference in your outfit! Make sure to take good care of it by washing it gently and storing it carefully to keep it fluffy and in good shape.
You can create many beautiful and cute Lolita looks with a good petticoat!
2. Piece of "Special Wear:
Another critical piece of your complete Lolita wardrobe is "special wear." This is a unique dress that is different from your everyday Lolita dresses. It is often called a "jumper skirt" or "JSK" for short.
These dresses usually have unique designs, patterns, or colors that make them stand out from your everyday Lolita dresses. Some JSKs even have special features like detachable bows or collars.
When choosing a JSK, it's essential to consider the season and occasion. Some dresses are more suitable for winter, while others are better for summer. And if you're attending a formal event, you'll want to choose a more elegant and sophisticated JSK.
Just remember to choose one that suits your style and preferences.
Easy to Coordinate Dresses
Now, let's talk about two easy-to-coordinate dresses. These dresses will make your Lolita fashion journey easy!
The first dress is a classic Lolita dress in black or navy. This dress will be perfect for a fancy party or a formal event. You can match it with a pearl necklace and a simple pair of pumps.
The second dress is a sweet Lolita dress in pink or lavender. This dress will be perfect for a casual hangout with friends or a picnic in the park. You can match it with a cute pair of socks and comfortable sneakers.
With these two easy-to-coordinate dresses, you can mix and match with your petticoat and "special wear" piece to create a complete Lolita look. And don't forget to have fun with your fashion!
Skirts in 2 Different Designs
Having different kinds of skirts is essential to build a complete Lolita wardrobe. Skirts are great because they can be easily mixed and matched with other tops and accessories to create many different looks.
So, what kinds of skirts should you have in your wardrobe?
It's a good idea to have two skirts in two different designs. That means you should have one skirt that looks different from the other.
One option could be a skirt with a lot of frills and lace. This type of skirt can be adorable and girly. It can also be a great way to show off a nice pair of shoes.
The other skirt is more straightforward, with just one or two layers of fabric. This skirt can be more versatile and easily coordinated with different tops.
Having two skirts in different designs means you'll be able to create a lot of different outfits with just a few pieces of clothing. So, when you're building your Lolita wardrobe, make sure to add some skirts to your list!
Tops of Various Designs
Now, let's talk about the tops! Tops are essential for completing any outfit. They can be long or short-sleeved and can be in many different styles.
Here are 5 tops that you should have in your Lolita wardrobe:
1. A simple blouse:
This is a basic blouse that you can wear with almost anything. It's perfect for layering under a jumper skirt or a pinafore dress. Its basic purpose is to give a proper shape to the figure. So a simple blouse of any type may be used in Ouji.
2. A sailor top:
Sailor tops have an adorable collar with a bow on it. A sailor Top embellishes and decorates the dress you wear. They look great with high-waist skirts or shorts. The utilization of such accessories in Ouji is always appreciated.
3. A ruffle blouse:
Ruffle blouses have lots of frills and looks fancy. It comes in various styles. Sometimes people use it with sleeves and sometimes they use it without sleeves. However Ouji permits you to use it in any style because they're perfect for dressy occasions and give you a sexy look.
4. A knit cardigan:
Ouji keeps it in view to make you comfortable in all the climates. So, when it is cold around you a knit cardigan keeps you safe from the cold. Thus Ouji allows you to wear a cardigan in a cold atmosphere. This is a great way to warm your outfit on colder days. Knit cardigans look cute over a dress or a skirt. It helps you maintain your Ouji looks.
5. A cropped top:
A cropped top is perfect for showing off your high-waist skirts! They can be long-sleeved or short-sleeved and come in many different designs.
Make sure to choose tops that you like and feel comfortable wearing. And remember, have fun with your fashion!
Headwear That Matches Each of Your Skirts or Dresses
As we mentioned earlier, Ouji is a type of Lolita fashion where girls like to dress in a more boyish style. To complete your Ouji look, you need to wear headwear that matches your outfit.
For example, wearing a skirt with a cute animal print, you can wear a headband with ears to match. If you are wearing a dress with flowers, you can wear a flower headband or a hair clip.
You can choose from many types of headwear, such as headbands, bows, hats, hair clips, and berets. You can select a headwear that matches the color or design of your outfit, or you can choose something that complements your outfit.
Remember to choose headwear that is comfortable to wear, too. You don't want anything too heavy or tight on your head.
2 Pieces of Outerwear
It's essential to have some outerwear in your wardrobe in case the weather gets chilly. Two pieces of outerwear are great for Ouji fashion: a blazer and a cape.
A blazer is like a fancy jacket. It's usually made of excellent material like wool or tweed and has buttons down the front. Blazers can come in many colors and designs, but for Ouji, it's best to stick with solid colors like black, gray, or navy. Blazers are great for when you want to look a bit more formal.
A cape is like a big blanket that you can wear over your clothes. Capes come in many colors and designs, but for Ouji, it's best to stick with simple designs like plaid or stripes. Capes can make you look like a prince or princess, especially pairing them with nice boots.
It's essential to think about your wardrobe when choosing outerwear. Blazers and capes are great choices for Ouji, but you should choose the one that best fits your style.
With a good blazer and cape in your wardrobe, you'll be ready for any occasion!
Ouji Fashion Brands
As for as the brands which offer Ouji fashion are concerned, they are mainly Japanese. These brands are really expensive. But the most interesting fact of the matter is that Ouji is not restricted or confined to any specific brand. So you do not need any special brand name to dress like an Ouji. However, there are a lot of Japanese Brands who are famous for offering Ouji fashion dresses. But these Japanese stores have no international shipping. You have to mail them or contact them personally through shopping service in order to have your favorite dress.
1. ALGONQUINS:
ALGONQUINS is one of the most famous brands in Japan. This brands offers the Ouji Dresses in many adjustable sizes. However, most of the dresses it offers are Unisex Dresses. In spite of all its charms and attractions, it must be kept in mind that this brand is also one of most expensive brands in Japan which offer Ouji Dresses.
2. ATELIER BOZ:
The other most well-known brand which offers Ouji dresses is ATELIER BOZ. If you are passionate about Ouji, you must know about this splendid brand. The unique quality of this brand is that it is the brand which made it crystal clear that men's buttons should be on the right side of their shirts and the buttons on the women's shirts ought to be on the left side of their shirts. Here once again, we find Ouji to be most flexible fashion as it allows you to have buttons on either side of your shirt, no matter what sex you belong to. Cutting the long story into short, this brand provides all the Ouji dresses with all their beauty.
3. INNOCENT WORLD:
INNOCENT WORLD is also a well reputed brand in Japan. Although it offers a variety of Ouji dresses or their accessories in plenty but the specialty of this brand is Blouse. Basically, INNOCENT WORLD offers Ouji Blouses which perfectly work for an Ouji dress in multiple sizes. These blouses are considered as an essential part of an Ouji fashion.
Secondhand Ouji Dresses
Another fact of Ouji fashion is that it is also available secondhand. There are certain retailers and individuals who deal in secondhand Ouji dresses. However, it is necessary to purchase carefully from the individuals who provide such services online. Before making a deal with such persons, you should check the rating and comments about them. This might help you purchase a good Ouji Dress.
Lots of Different Accessories
Accessories are extra things that you wear with your outfit to make it even more beautiful. There are many different kinds of accessories that you can use to make your Lolita outfit even cuter!
First, you can wear cute socks or tights that match your outfit. You can also wear cute shoes, like Mary Jane, or lace-up boots.
Second, you can wear a cute necklace or bracelet that matches your outfit. You can also wear a pretty hair bow or headband.
Third, you can carry a cute purse or bag that matches your outfit. You can also wear a cute belt or a pair of gloves.
Finally, you can add cute little things like stickers or pins to your outfit to make it even prettier! You can make your Lolita outfit unique and special with many different accessories!
My Lolita Dress – Your Dress Shop
Do you like Lolita fashion? Then you'll love My Lolita Dress! It's a shop where you can find all kinds of Lolita clothes at great prices.
What kind of clothes can you find there? 
They have Lolita dresses, shoes, outfits, and much more. And they are all branded and top quality, which means they are perfect clothes.
But what is Lolita fashion, you ask? 
It's a fashion that comes from Japan. It's all about looking cute and girly, but in a precise way. There are different kinds of Lolita fashion, like sweet Lolita, Gothic Lolita, and Ouji, also called prince fashion.
Ouji is a Lolita fashion where girls wear clothes that make them look like boys. It's cool and a great way to be creative with your fashion.
So, to have a complete Lolita wardrobe, you should check out My Lolita Dress. They have everything you need to look cute and girly in a very unique way. And you won't have to spend too much money, which is always a plus.
How to Clean Lolita Clothes At Home
Lolita's fashion is so cute and unique! But sometimes, knowing how to keep your pretty clothes looking clean and fresh can be tricky.
Here are some tips for cleaning your Lolita clothes at home:
Use Gentle Detergent
When washing your Lolita clothes, always use a gentle detergent that won't damage the fabric or colors. That's why it is recommended that you have to avoid hard detergents which may prove harmful for Lolita dresses. You can find special detergents for the delicate clothes at the store.
Wash by Hand
Lolita is another name of delicacy. So, instead of using the washing machine, washing your Lolita clothes by hand would be the best. This will help prevent any damage or stretching to the fabric. Use lukewarm water and gently massage the clothes with the detergent.
Rinse your Lolita clothes well with cool water to remove soap or dirt. Keep the clothes tight enough, or you may damage the fabric.
Hang to Dry
After washing, hang your Lolita clothes to dry instead of putting them in the dryer. This will help them keep their shape and prevent any shrinking. Don't hang them in direct sunlight, which can fade the colors.
If your Lolita clothes are wrinkled, you can use an iron to smooth them out. But be very careful! Use a low heat setting and place a towel between the iron and the clothes to protect them.
When you're not wearing your Lolita clothes, store them properly to keep them looking nice. Fold them neatly and place them in a drawer or on a shelf. Please don't leave them hanging on a hangar for too long, as this can cause stretching.
With these tips, you can keep your Lolita clothes looking clean and pretty for a long time. Just remember always to treat them gently and with care.
How Often Should You Wash Lolita Clothes?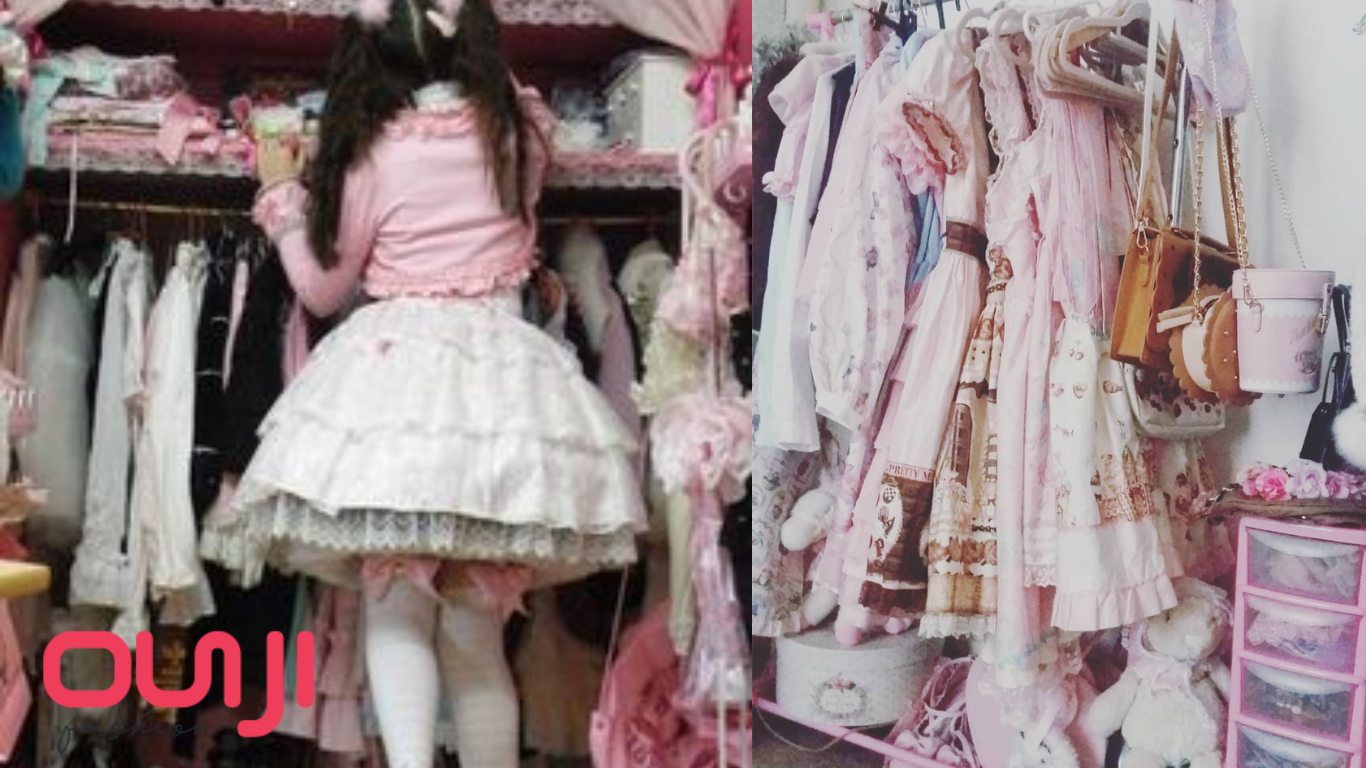 If you're into Lolita fashion, you might wonder how often you should wash your clothes. Washing your clothes can be essential to keep them looking good and feeling clean. However, washing too often can damage delicate fabrics or decorations on your clothes.
So, how often should you wash your Lolita clothes? Let's find out!
It Depends on How Often You Wear Them
The frequency of washing your Lolita clothes depends on how often you wear them. If you wear your Lolita clothes daily, you'll need to wash them more often than if you only wear them once a week. If you wear your Lolita clothes on a hot summer day, washing them more frequently is also a good idea.
Check the Clothing Care Instructions
Different types of Lolita clothing may have further cleaning instructions. Some materials can be hand washed, while others need to be dry cleaned. Check the clothing care label for the cleaning instructions. If the title is in Japanese, ask a friend or use an online translator to help you understand the instructions.
Spot Cleaning is Better
Spot cleaning is better than washing the whole item if you have a small stain on your Lolita clothing. To spot clean:
Gently dab a cloth with a mild cleaning solution on the stain.
Don't rub the stain, or you could damage the fabric or decorations.
Use a dry cloth to soak up the cleaning solution.
Allow the clothing to air dry.
Be Gentle When Washing
When washing your Lolita clothes, it is essential to be gentle. It would help to wash your clothes in cold water with a mild detergent. Don't use bleach or fabric softeners. After washing, gently squeeze the excess water out of your clothes, but don't twist or wring them. Hang them up to air dry.
Remember to be gentle when washing and avoid washing them too often. With these tips, your Lolita clothes will look their best and last longer.
Keep it simple:
Remember that Ouji Lolita fashion is all about simplicity along with a deep sense of delicacy and fragility. No matter whether it is about the selection of an Ouji dress or about its washing, never let the edge of simplicity go away. In addition to this, make sure to do your outfit with enough accessories or colors whenever you are adopting an Ouji Fashion. Selection of colors while matching or contrasting the various segments of an Ouji dress, be sure that it remains as simple as you can afford. However, it does not mean that you cannot opt for a flamboyant Ouji dress. It has its own value according to the eve or festive where you are going to wear it.
Have fun with it: 
Ouji never allows you to be grave and somber while wearing it. Ouji fashion makes you as glee as a skylark. So it's always a fun to try different colors with different Ouji styles.
Remember that fashion is all about expressing yourself. While keeping the literal meaning of Ouji in view-Prince- Ouji leads you to the comforts and luxuries a Prince enjoys. No doubt a Prince wears what gives him a lots of pleasure and inner satisfaction. That's why it is highly recommended that you should feel free to experiment with different styles and accessories. Just have fun and feel like a Prince does with an Ouji Fashion.
With these easy steps, you can dress like an Ouji Lolita and express your unique style.  
Frequently Asked Questions
What is Ouji fashion?
Ouji fashion finds its roots in Japanese culture. In the beginning, the girls used to wear the dresses of their boy-friends in order to look like boys. With the passage of time, it became a trend to wear loose pants, jackets and trousers like boys do. In simple words, it can be said that it makes the one androgynous when one gets inclined to Ouji fashion. Here lies all the difference Ouji gives to those who like to be seemed as different from their fellow beings.
Ouji fashion is a Japanese fashion trend that falls under the umbrella of Lolita fashion. It is often referred to as "prince" or "boyfriend" fashion because of the androgynous aesthetic sense it promotes.
How is Ouji fashion different from other Japanese fashion trends? 
Ouji is different from other Japanese fashion trends like Street fashion, Hipster, or Hostess. No doubt, these fashion contain their own significance in Japanese culture but the way Ouji fashion has attracted the world towards itself is really astonishing. Its revival in other countries like Europe and other western nation has made the world look towards it, Ouji, with much more fascination and respect.
While many Japanese fashion trends tend to prioritize cuteness and femininity, Ouji fashion goes against this norm by incorporating more masculine elements such as suits, vests, and top hats.
Who typically wears Ouji fashion? 
Basically Ouji is not restricted or confined to any single gender. However, young women primarily wear Ouji fashion.  On the other hand, it can also be worn by anyone who enjoys the aesthetics. Some people who wear the Ouji fashion style identify as non-binary or gender-nonconforming. So a young boy or a girl may wear an Ouji dress according to his or her taste. It will lead you to the world of Princes and Princesses.
What are some key features of Ouji fashion? 
Ouji fashion typically incorporates tailored jackets or blazers, vests, dress shirts, bow ties, knee-length shorts or pants, and accessories like top hats, monocles, or canes. The overall look is very regal and sophisticated. The key feature is much evident from the fact that it is just about looking like a prince. A prince is basically a symbol of freedom and liberty, one may say. So Ouji is a fashion which gives you the freedom, liberty and a strong sense of free will to wear and enjoy whatever pleases you.
Where to buy Ouji fashion clothing and accessories? 
The brands which offer Ouji fashion only operate in Japan. Many specialty boutiques and stores which offer shipping services. Online stores sell Ouji clothing and accessories. But you have to be very careful while purchasing through online vendors. Popular brands include Alice and the Pirates, Atelier Boz, Juliette, Justine. But keep it in mind that these brands don't offer online services directly.
How to make Ouji Lolita Fashion?
To dress in Ouji Lolita you need not worry. Just have a base outfit in some bright color in order to look like a Prince. Basically it's all about looking like an androgynous. For this purpose you have to wear some of the accessories like a bow tie, a hat, a cropped top etc. along with the shirt and pants or shorts.
Can Ouji be worn in everyday settings?
Yes! It is possible to dress down Ouji fashion for everyday wear. Many Ouji people incorporate clothing and accessories into their regular wardrobe. Ouji reflects your personality that how easily you face the challenges of life without being harsh. Ouji does not restrict its admirers to be specific with some events or celebrations. It is the fundamental characteristic of the Ouji fashion that it makes it a fun to dress. So, undoubtedly, Ouji can be worn in everyday settings.
Is Ouji fashion related to cosplay? 
While some elements of Ouji fashion could be used in a cosplay context (such as dressing up as a Victorian-era character), it is not inherently related to cosplay. Ouji fashion is often used to show some of the historical characters. These historical characters are best displayed through Ouji. Ouji is primarily a fashion trend and style choice.
Conclusion
So, that is the Ouji fashion!
It is a unique and relaxed style of dressing that originated in Japan. Ouji fashion is a subset of Lolita fashion and is sometimes called "boyfriend style" or "prince fashion" because girls who wear this fashion aim to look androgynous. They love dressing in jackets, trousers, and bowties like boys do. Some girls like to wear cute patterns and colors, while others prefer darker colors and stripes. No matter your preference, you can create a unique and exciting look with Ouji fashion. No matter which style of Ouji Lolita, you can create a unique and stylish look!
Indeed, Ouji Fashion is constantly evolving due to the excitement and enthusiasm it possesses. Fashion is the other name of variety. As it is said that "Variety is the spice of life and monotony is death", same is the case with Fashion. There is nothing permanent in Fashion except change and it is permanent with all the fashions that they grow, get popular for a short span of time, and then they suddenly get diminished and new styles take their place and the whole of the society just forgets the previous styles and tries to adopt the new styles.But here you are talking about Ouji Fashion which presents endless exciting opportunities of dressing in a dashing way.
The umpteen and numerous varieties of Ouji Fashion never let it get diminished like other common fashions rather, with the passage of time, the ongoing cultural, traditional or other societal changes become the themes of Ouji Fashion and thus the fans of Ouji Fashion always find it interesting and suitable to enjoy their taste and style.They never find any variety of Ouji Fashion obsolete or out dated as it is growing day by day keeping in view the current requirements of the youth. It is the use of Lolita accessories and their manipulation into Ouji, which help cope with the newly emerging diverse challenges in the field of Fashion.