Knotless Braids Medium: The Ultimate Guide to Low-Maintenance Protective Styling
If you're a busy person with a hectic schedule, maintaining your hair can feel like a hassle. With knotless braids medium, you can have a chic, low-maintenance protective style that can last for weeks. In this ultimate guide, we'll take a deep dive into knotless braids, from what they are, how to install them, how to care for them, and everything in between. So, let's get started!
What are Knotless Braids Medium?
Knotless braids are a protective hairstyle that doesn't use a knot or a rubber band to start the braid. Instead, the hairstylist uses a feeding technique to braid the extension hair into the natural hair. Knotless braids are less likely to cause tension and pain on the scalp, which is a common problem with traditional box braids. The medium size knotless braids are versatile and can be styled in various ways.
How to Install Knotless Braids Medium?
Installing knotless braids medium can take about 4-6 hours, depending on the thickness and length of your hair. Before starting, you should have the following materials: extension hair (Kanekalon hair or Xpression hair), a rat tail comb, a hair tie, and hair cutting scissors.
Here's a step-by-step guide to installing knotless braids medium: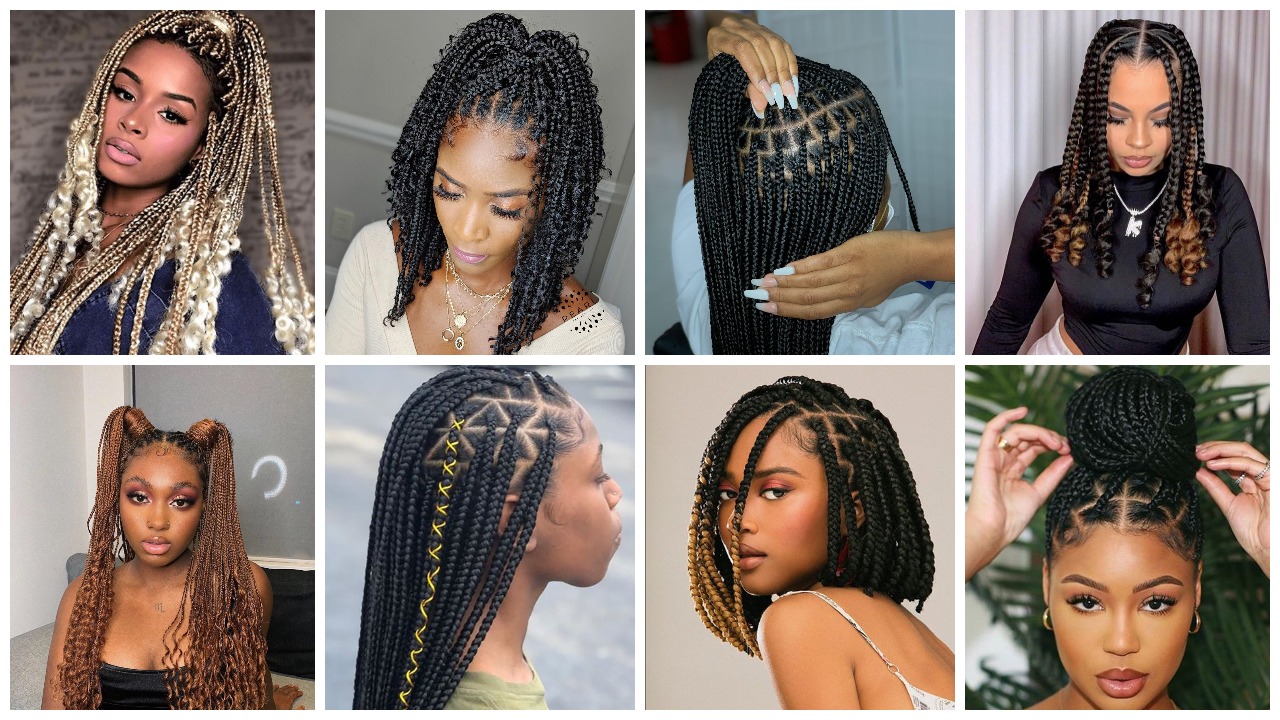 Wash and condition your hair thoroughly before the installation. Dry your hair completely.
Section your hair into small sections and braid each section with the extension hair using the feeding technique. Start with the nape of your neck and work your way up.
As you braid, add more extension hair to the braid until you reach the desired length.
Once you finish braiding, dip the ends of the braids into hot water to seal them.
Cut off the excess extension hair, leaving about an inch or two of braided hair.
Style the braids as desired.
How to Care for Knotless Braids Medium?
To keep your knotless braids medium looking good for weeks, you should follow these care tips:
Moisturize your scalp and hair daily using a leave-in conditioner or oil. Pay extra attention to your edges and nape area.
Sleep with a satin bonnet or scarf to prevent frizz and breakage.
Wash your braids once a week with a sulfate-free shampoo. Rinse thoroughly and follow up with a deep conditioner.
Avoid using heavy hair products that can weigh down your braids.
Don't keep your braids in for more than six weeks to prevent hair breakage and scalp irritation.
Knotless Braids Medium: Pros and Cons
Like any hairstyle, knotless braids medium has its pros and cons. Here's a quick rundown:
Pros:
Low-maintenance hairstyle that can last for weeks
Versatile and can be styled in various ways
Gentle on the scalp and less likely to cause tension and pain
Provides protection for your natural hair
Cons:
Can be expensive to install
Can take several hours to install
May cause itching and discomfort during the first few days
Requires regular maintenance to keep looking good
Conclusion
Knotless braids medium are an excellent low-maintenance protective hairstyle that can last for weeks. They're gentle on the scalp and less likely to cause tension and pain, making them a great alternative to traditional box braids. By following the installation and care tips outlined in this guide, you can enjoy beautiful knotless braids medium for weeks to come. So, why not give this protective style a try?
Read more on Ouji Fashion